Last Chance Auto Repair For Cars Trucks, Plainfield, Illinois
by Corry
(Plainfield, Illinois, United States Of America)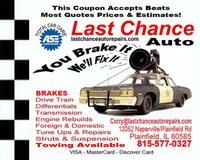 Last Chance Auto Repair For Cars Trucks - (815)577-0327
Last Chance Auto Repair For Cars Trucks is your source for honest, quality, on budget trustable auto repair in the Plainfield, Naperville, Bolingbrook IL area. All of our customers are treated like family members, and we strive to make sure you are happy in the long run. We also offer free local round-trip rides to work or home.
You brake it we'll fix it. Quality auto repair on budget for all.



We offer a complete auto service for all makes and models of domestic and imports with ASE Certified trained techs. Including Lexus, Nissan, Subaru, Honda, Vw, Gm, Toyota, Mitsubishi Chevy, Ford, Gmc, Chrysler, Dodge, Jeep, Kia, Pontiac, Cadillac, Acura, Infinity, Nissan, Audi, Bmw, Mercedes Benz, Saab, Volvo, Land Rover, Gm, Porsche, Lexus, Scion, Mazda, Mini, Saturn, Volkswagen, Hummer, MG, Etc. Our skills and experience lead to quality repairs, often done the same day. Call Last Chance Auto Repair For Cars Trucks today or even tonight for more information or to schedule your appointment today. We look forward to seeing you.



12052 S Naper-Plainfield Rd
Plainfield, IL 60585
(815) 577-0327



myautorepairadvice.com comments,


This repair shop has an ok website. It is a good design, but there are numerous spelling mistakes and some of the grammar mistakes make the text hard to read.


Last Chance Auto Repair has a good rating at the BBB. They also have numerous good reviews online. However I did notice that they have 27 five star reviews...this is not normal. Most of the time there will be at least a few reviews that are not 5 star. This makes me question whether they are all real.


This shop advertises that they are a BBB accredited business, are members of ASA and are AAA approved. After checking on each of those respective websites though, I found that they were not members of any of them.


At first this seemed like a great shop, but after checking into them and their advertised memberships I would not recommend using them. If they are dishonest about being members of these organizations then they might be dishonest about other things too. I would not use this shop.