Mitchell1DIY Review
Before buying repair manuals from eAutoRepair.net, read my full Mitchell1DIY review first to find out if they are worth your money.
Mitchell1DIY is one of the most popular online source for auto repair manuals. With a massive library of online manuals for over 30,000 vehicles (and growing), you can be almost certain to find a factory manual that is specific to your vehicle's year, model and make.

Mitchell1DIY Review - The Good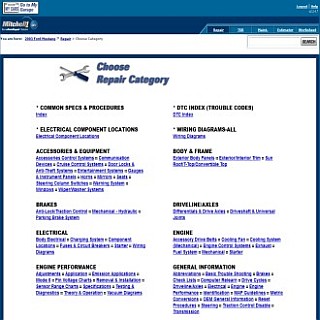 In my opinion, one of biggest plus points of Mitchell1DIY repair manuals is that their color coded wiring diagrams. You can get wiring diagrams from many places, but color codes ones are much better. Anyone who has tried to trace down an electrical component on a wiring diagram knows that it would be much easier if they were color coded.

Another good thing they have going for them is the fact that they have auto repair manuals online. Since it is all online you can have instant access to the information. You don't have to go to a store to buy the book. You can also login anywhere you are and don't have to lug around a repair book for your car. No matter where your car breaks down you can find the information for it as long as you have computer access.
When you log into their site, you will find more car information than you can imagine. It will tell you everything from wiring locations to specific, step-by-step instructions for doing pretty much ANY repair job on your car.
You will find technical service bulletins as well as recall information. You can find any recall that was ever sent out for any part on your car. You will also find labor times so you can look up to see how long virtually any job on your car should take a good mechanic. This is handy if you are checking to see if you are being ripped off because you can compare the quoted labor time to that time that is shown in this manual.
Mitchell1DIY Review - The Bad
Some of the strengths of ondemand5 and eautorepair.net are also some of the weaknesses. There is a lot of information available to you when you sign up. If you are not used to this amount of info or you don't learn how to navigate to the information it can be overwhelming. After you use it for a while and get used to it then you will find that it really isn't that hard.

It can be annoying to be out in the garage working on your car and then have to come back inside with greasy fingers to look something up. Sometimes the best thing to do is to just print out the entire job instructions and take them with you. This is also nice because you can take notes on what you have done on the paper.

You have to have access to a computer and the internet to use this service. This is usually not a big deal but sometimes it would be handy to have this auto repair information when you are stranded somewhere with your car broke down.
Conclusion
Most of the time when someone has a car repair question or they are trying to fix their car themselves they just kind of jump in and try to get it done. If they would have taken just a few minutes and signed up for this online repair manual they would be able to get every detail that they need to repair their car.
This is not a casual owner's manual. This is the same repair information that the auto repair shops use. That is how good it is. If repair shops that charge $100 per hour use it then it is plenty good enough for the DIY mechanic. There is no reason to pay a shop when you can do a lot of the same repairs at home.
Given their affordable price of $20++ (for a year's subscription), Mitchell1DIY manuals are well worth the price and I shall end this Mitchell1DIY review by recommending it to all vehicle owners and DIY mechanics - Click here to check them out for yourself.
Like and Share