Home

›
Auto Repair Yourself
›
Car Battery Problems
› Car Battery Life
Car Battery Life 
Car battery life can vary depending on the conditions in which you drive and how good of a battery it is. Here is some information and a buying guide.
How Long Should My Battery Last?
Nobody likes to be stranded. Whenever I get stuck, the first thing I always think is, "Did it have to be today?" The truth is, it is hardly ever a good day for the car to break down.
Regular maintenance, as recommended by your car's manual is obviously a good place to start, to avoid trouble. An often neglected component of the maintenance schedule is the car battery. Depending on your driving habits, the type of climate you live in and so on, a problematic car battery can easily go undetected despite regular servicing of your car.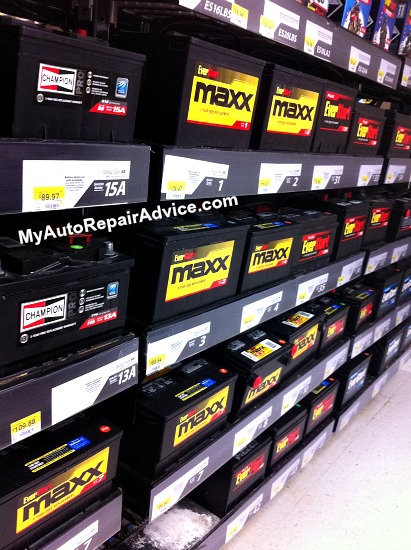 It works like this. Car batteries tend to last on average for three years. Some car battery life is rated for up to 5 years. You could be lucky and have a battery last for much longer than that. Long standing times i.e. a car that is not driven for a couple weeks at a time, high temperatures which accelerate corrosion and of course discharging the battery accidentally by leaving the lights or another electrical device on, all contribute to the early retirement of your car battery.
Batteries are more likely to fail or show evidence of oncoming failure during very cold periods this will make car battery life less. It takes more effort to start the motor and therefore draws more current from the battery. In the summer therefore, a battery may show little or no sign of giving up the ghost and then just up and keel over one day.

The moral of the story is that you should test the battery every few months. If your battery seems sluggish even once, go straight to a testing center and have it checked out or start shopping for a replacement.

Batteries are sold with a warranty that they will function for a minimum period of time. Always keep your warranty in the car, with the car manual for quick reference so if your car battery life is less than it should be you can do something about it. You can also check the date as a guide for when the battery is likely to start fading.
Test Your Battery First
Even if you have run your battery completely flat, the battery may be fine after a good charge. Always, always have the battery tested. Batteries are not cheap and there is no need to throw away a perfectly good one. Car battery life will be less the more you have to re-charge it.
Proper Disposal
When slow charging, which is the only way to really repair a car battery, does not do the trick or the tests indicate that the battery has had it, then you will need to take your old battery to the proper disposal facility as it contains acid and toxic lead. Many battery dealers will actually give you a discount if trading in the old battery.
Car Battery Buying Guide
* Batteries can easily cost up to $200 so it is worth shopping around for.
* Consider quality as an unusually cheap battery may well prove too good to be true and the car battery life will be less.
* Get a fresh one. Check the date stamp and don't buy one that is more than six months old
* If it snows or gets very cold where you live then pay extra attention to the CCA rating (it stands for cold cranking amps and is a measure of how the battery performs in the chilly temperatures). Your car manufacturer will have a recommended CCA. Don't go lower but don't go much higher either.
* Conversely if you live in a hot climate, read reviews for which batteries work best in such conditions.
* Take note of something called the RC or Reserve Capacity. This means that if the alternator (the thing that charges the battery) is not working, the battery can still power the electrics on your car for x amount of time. Again, consult your car manual for the optimal rating.
* Size does matter. Each car has what is called a 'group size' which means that the length, width and height is appropriate for your car. You can probably get all these figures from your current battery BUT your current battery may be the incorrect one. Rather check the car specifications.
Replacement Tips
Changing a battery is relatively easy to do. As long as you can lift the thing, you can change it. They weigh around 40 pounds. A battery technician can fit one for you in a few minutes. If you want to do it yourself, it is no big deal. With the car off, loosen the nut on the black (-) terminal and wiggle the cable off. Then do the same with the red (+) cable. There should be a harness or a clamp, holding the battery in place. Loosen or remove it so that you can easily get the battery out. Swap the old one with the new one and then proceed in reverse order. Attach the clamp, red cable and lastly the black cable. Make sure everything is nice and tight to avoid the battery wiggling around or one of the leads not making good contact. DO USE protective gloves and eyewear as battery acid is not your friend. I would suggest not wearing your Sunday best either.
* If it has caps then you need to top it up with DISTILLED water only. If there are no caps, there is no need to top up.
* Keep the terminals clean with water and some baking soda, using a brush. Car battery life will be less if you don't maintain yours.
* Be careful when working with car batteries, using protective gear to avoid coming into contact with acid.

It is advisable to carry either a portable battery charger or jumper cables in case you do get stuck. Know how to use either device as incorrect use can damage your car or that of the Good Samaritan who is trying to give your battery a boost. This is easy and nothing to be intimidated by.
More Pages You Might Like
Home

›
Auto Repair Yourself
›
Car Battery Problems
› Car Battery Life