Home
› Auto Repair Manuals
The Best Auto Repair Manuals
Auto repair manuals are extremely important to get the job done right and quickly. Anyone who has tried to do a complicated repair job with no directions can attest to the fact that a good set of instructions is virtually invaluable. I have used many different kinds and brands of repair guides. From the time I was in high school all the way to becoming a professional technician I have been using repair guides.

When I first started out working on cars I went to the auto parts store and picked up a cheap repair guide. It worked great at first. Then I started getting into more complicated repairs and bigger jobs. What I found is that these guides didn't have a lot of the information I needed and when it did have the info, many times it was just too general to be of any use.

As I transitioned to working as a full time mechanic I found out that there was one repair manual that most technicians used. I started using it too and have found that it is by far the best one out there. There are several others that are pretty good too, but just not quite as good. 
My Favorite Auto Repair Manual
The one that I found to be the best for me is an online repair manual called Alldata. This is a professional level manual that has any information you could possibly want on any vehicle starting with the 80's. They also offer information for older vehicles but it is not quite as extensive and sometimes you have to call or chat with a representative in order to get what you need. This is the same level of information that the dealerships have for your vehicle. 
This online repair manual is easy to use, has the information that you need and is relatively inexpensive. In fact, you can get a subscription for this service for less than the price of one of the printed manuals at the auto part store. Alldata will have much more information. 
If you want to learn more about this option you can read learn more by reading my Alldata review.
Another Good Option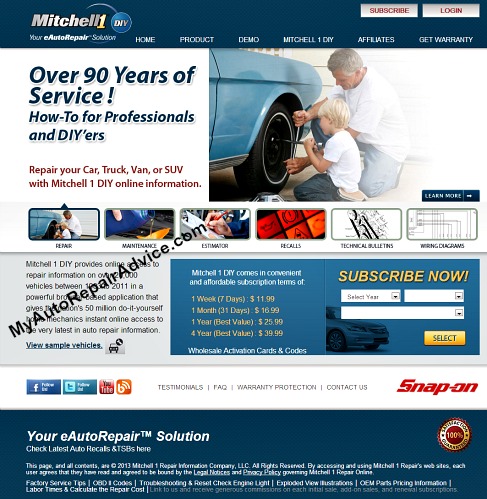 Another good repair manual that is on the same level as Alldata (just not as good in my opinion) is called Mitchell1 or Ondemand5. This company provides all of the same information as Alldata but just in a different format. In my opinion the information is much harder to find and is not organized as well as with Alldata. 
One thing that Mitchell1 does a little better is wiring diagrams. When you pull up a wiring diagram you have the option of highlighting a particular circuit in a specific color. This gets more important if you are working on a complex electrical problem. 
While I would choose Alldata first Mitchell1 or Ondemand5 is easily my second choice. Read more about Mitchell1 here. 
The "Other" Auto Repair Manuals
The only other halfway decent repair manuals out there are Chiltons and Haynes. These repair guides are good starter guides for repairs that are not too in depth and when you don't need a lot of detail. Things like brake jobs and maintenance items can be done easily using these guides. While I would buy either Alldata Mitchell1 (since they are the same price or less) before I would consider either of these, some people prefer to have a printed guide in their hand. In that case, these are the ones for you.
Read my review of Haynes Repair Manuals here.
Read my review of Chiltons Repair Manuals here.
What About Free Auto Repair Manuals?
If you are looking for free auto repair manuals you will most likely not find any that meet your needs very well. There are no company's that I know of that provide free auto repair information. This type of information is just too valuable to give away for free. 
That being said there is one place that I know of where you can find some general information about your vehicle for free. Every vehicle is not listed and you will likely need more information than they have, but you may be able to find what you need. Read more about this free auto repair information here.
Other Pages You Might Like
DIY Auto Repair Information and Guides
Check Engine Light Code Information
Home
› Auto Repair Manuals