Home
› Auto Repair Yourself
Auto Repair Yourself (DIY Auto Repair)
You can do auto repair yourself. Not all jobs are a good fit for diy auto repair, but there are many that are. If you have some mechanical knowledge and ability and some basic hand tools you can save a lot of money by working on your own car. Keep in mind however that there are a lot of repairs that are best left for the professionals. I've written many in-depth articles about some of the most common diy auto repair jobs and given my advice as to whether you should try to do it yourself or if you should just have your mechanic do them. Let's take a look at some common repairs and whether you should try them yourself or not.
Common DIY Auto Repairs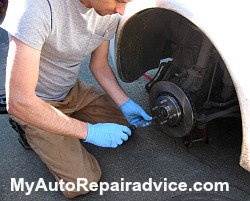 Brake Repair. This is a very common repair that most car owners can usually do themselves. Since it is such a common diy repair I've written many different articles with lots of pictures. Take a look, then dive in!
Car Maintenance. All cars and trucks need to be maintained properly to keep the warranty in effect and to keep the vehicle running reliably for as long as possible. Find out which repairs you can do yourself and check out all of my repair guides for this section. 
Radiator Repair. I just have to solder it, right? Read this first! Do it yourself radiator repair is not what it used to be! Back when automotive manufacturers used all metal radiators this would have been an easy job, but things have changed. They have changed how they make most car radiators and therefore you have to change the way you repair radiators when you do it yourself.
Coolant flush. Isn't this just draining and re-filling my radiator?
It seems like there is so much misunderstanding about what a coolant flush actually is. It also depends on what advertisements you read. Learn more about this diy mechanic job here.
Rotate tires. Just switch one tire with another, right? DIY mechanics need to know about rotating tires. Since so many cars are all wheel drive it is even more important that tires wear evenly. If they don't then you can be doing damage to various parts of your drivetrain.
These are just some of the most common DIY auto repair jobs that you might be trying. Keep in mind when you are thinking about trying auto repair yourself sometimes it is actually cheaper to take your car to an auto repair shop. When you try to do a job like replacing wheel bearings in some cars you need some specialized equipment to do it correctly. This would take an automotive technician just a few minutes to do, but for you it would be impossible because you don't have the needed equipment (namely a shop press) to do this auto repair yourself.
You also have to remember that most mechanics have years of experience and education so if you have a car question that you can't figure out it might be worth it to take it to a good repair shop. You could spend hours and lots of money replacing parts when a good diagnostic technician could figure it out quickly and save you money buy accurately diagnosing the problem.
I don't say any of this to try to get your car into a repair shop, I simply want you to think about the fact that some repairs and diagnostics are worth taking it to a good, reputable repair shop. So do auto repair yourself, but don't rip yourself off!!!

Which Jobs Can I do Myself?
Oil changes
Air filter replacement
Checking fluids
Replacing fuses
Washing and waxing
Detailing the inside
Replacing windshield wipers
Replacing cabin air filters
Changing tires
Replacing spark plugs
Replacing brake pads
Many other maintenance items.
Things to Leave to a Pro
Air conditioner repair
Head gasket repair
Major engine repair
Aligments
Axle replacement
Wheel bearing replacement
Many other major repairs.

This does not mean that there aren't exceptions. I've seen some backyard mechanics that can repair cars better than some mechanics that work in really nice repair shops. This is usually an exception however. I have also seen and heard about supposed diy mechanics that have caused more problems than they have fixed.

If you are determined to try auto repair yourself then make sure you have a good set of hand tools along with some diagnostic tools, a good repair manual, and plenty of time to learn about the repair you want to try. The last thing you want to do is break something or replace a part that isn't bad because you didn't know how to correctly diagnose the problem. Make sure that the auto repair that you want to DIY is within your skill level. If it isn't then find a friend that can help you out.

Doing auto repair yourself can be fun and can save you money, but doing auto repair yourself can also cost you money if you don't do it right.
Home
› Auto Repair Yourself